Bitcoin to Chinese Yuan
If you want to know the current price to exchange Bitcoins into Chinese Yuan (BTC/CNY), the price chart below provides the up-to-the-minute exchange rate:
The number in bold in the upper left hand location just above the chart is the current Bitcoin to Chinese Yuan price as currently reported on the Bitcoin exchange at btcchina. The Bitcoin value literally changes moment by moment, so to get the most recent BTC/CNY exchange rate, simply hit the refresh button on your browser.
To gain a solid overview, you should also read our enlightening commentary regarding the historical Bitcoin price to build your understanding of where the BTC exchange rate has been in the past, and where it is likely headed in the immediate future. Also of interest, you can read about the man who bought $26 worth of Bitcoin 3 years ago, forgot about them, and just recently remembered his purchase to discover his $26 Bitcoin investment had turned into $886,000.
The chart below shows the BTC/CNY exchange rate over the past 30 days: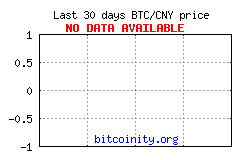 This final chart provides the Bitcoin to CNY price range over a longer period of time, namely, the previous 6 month period: